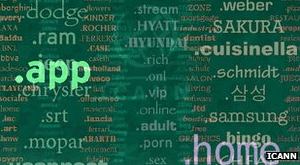 Slash dot, dash dot, slash dot, dash dot
Slash dot, dash dot, slash dot com
Dot com, dot com, dot, dot, dot, dot com!
.com – Often the most sought after suffix to put at the end of any domain name.
Until now there were only 22 generic top level domain names including.com .org and .net.
However on Monday morning a new arabic net address pronounced as dot shabaka was the first to go live as one of 1000 new generic top level domain names and from February 4th any organization or even us mere individuals are free apply for our own domain name suffix.
The Internet Corporation for Assigned Names and Numbers, ICANN, who approve (or refuse) applications said that the market place had become too crowded.
Their Vice President referred to the decision as 'One of the most profound changes in the history of the Internet'.
There appears to be two responses to this.
For one side this move is hugely significant in that they can now buy domain names written in their own language with 游戏 as Mandarin for game and онлайн, Russian for online, due for imminent release.
Scotland is also due to have its own domain so if you want to snap up one for yourself keep your eyes peeled for the .scot address list which will be available to buy this summer.
Hopefully this move will also give smaller companies or individuals the opportunity to buy the right url for their business without the need to enter a high priced bidding war to get it.
Having negotiated on behalf of our clients to purchase a domain name I was staggered at just how much money changed hands in the quest to get that all important .com address – a sellers market indeed!
On the other side of the coin this move could cost some firms £100's or even £1000's to protect their domain names and overall brand with the need to purchase so-called second level domains with the new suffixes.
I'm sure the industry of buying and selling urls will be rubbing their hands with glee as this decision will generate even more revenue for them.
Will this new choice of names knock .com off the top spot?
Probably not.
And although this may be costly for some bigger firms hopefully the wider selection of top-level domains will prove to be the right move overall.
So, the market is open – what will you buy?