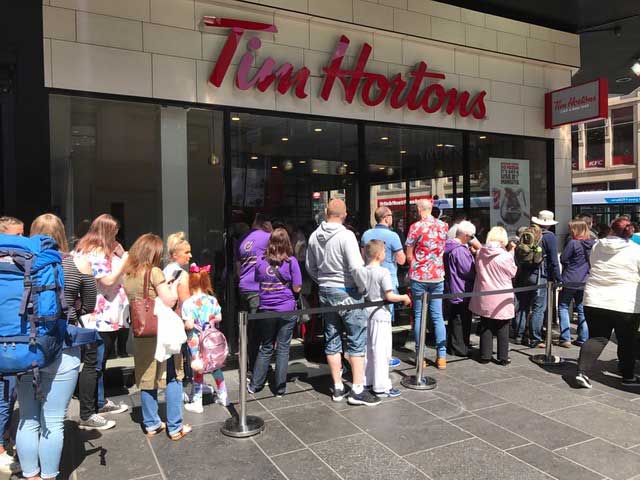 In the 1950s and 1960s Tim Horton was one of the 100 Greatest NHL Hockey Players of all time. Known as a powerful defensemen he played with the Toronto Maple Leafs for almost 20 years. So how did his name find itself emblazoned on the corner of Argyle Street in Glasgow in 2017 – over 50 years later?
Back in the 1960s NHL hockey players did not earn the types of salaries they earn these days and Tim would supplement his income by working different jobs in the summer offseason. Following several different ventures he opened his first Tim Horton Donuts in 1964 in Hamilton, Ontario, Canada. Partnering with Ron Joyce he expanded it into a franchise in 1967. Following his untimely death in a car accident in 1974, Ron took over eventually developing it into a multi-million dollar franchise. Expansion continued and by 1978 they had 100 stores across Canada.
This process of successful entrepreneurialism has continued ever since
1984 first US location is opened in Tonawanda NY
1995 1000th store is opened
2004 double double becomes official vocabulary when it makes it into the Canadian Oxford Dictionary.
2006 company goes public
2014 celebrate 50 years
2017 first store opens in the UK
Along the way Tim Hortons have dropped the "Donuts" naming and focus and have instead broadened the brand to encompass a large number of food items. The first store in the UK, in Glasgow, is a "Cafe & Bake Shop". You may remember that Starbucks made a similar move when they dropped "Coffee" from their banding and have also focused on a broader food offering.
Now after having made several successful leaps can they transfer this to a UK audience?
Judging by the initial reaction and daily crowds lining up to order their favourite item, it seems they have certainly done a great job in creating awareness. When I visited on the weekend there was a real positive feel in the store and a lot of genuine public goodwill. Like myself, or even the many tourists that have visited Canada and brought back their experiences of Tim Hortons; all will help advocate the brand and it's offering. They have maintained a story of proud heritage while adapting to expanding their offering & messaging.
The current coffee market in the UK is estimated at over £8 Billion and with the forecast set to double double (ahem) in the next 10 years, Tim Hortons seem well positioned to become an important and interesting player. Now, please pass me another Timbit…