The Super Bowl is almost here, and it looks like there will be fewer political ads than in years past. Of the brands that have released their ads (or teasers for their ads) so far, there are almost exclusively comedic ads in rotation. While a lot of the most memorable Super Bowl ads of all time have relied heavily on comedy (looking at you, Budweiser!), in recent years political ads have started to become more common, despite the massive price tag. It's not only ads that have become politicised in the Trump years; the half-time show has also been moving that direction in recent years, with Beyoncé's 2016 Formation debut paving the way with its message of 'radical Black positivity' and Lady Gaga continuing the trend in 2017 with her focus on LGBT rights.
In 2019, though, it seems that few brands are willing to take the risk, and Maroon 5, the milquetoast headliners of this year's halftime show, seem unlikely to venture into political territory, either. With a country as riven by political divides as the US, at first glance it makes sense that brands are hedging their bets and sticking with comedy & celebs, two guaranteed wins that are unlikely to offend liberals or conservatives when it comes to Super Bowl ads.
But on further consideration, it's actually somewhat of a shock: the most successful ad campaign in the US in 2018 was Nike's controversial Colin Kaepernick ad, which drove a 9% sales increase and a whopping 10% revenue increase in the last quarter of the year alone! These record gains stood despite a vocal-but-small minority of Americans who planned to boycott the brand after the ad's release, with some of them even burning Nike shoes and other merchandise in protest.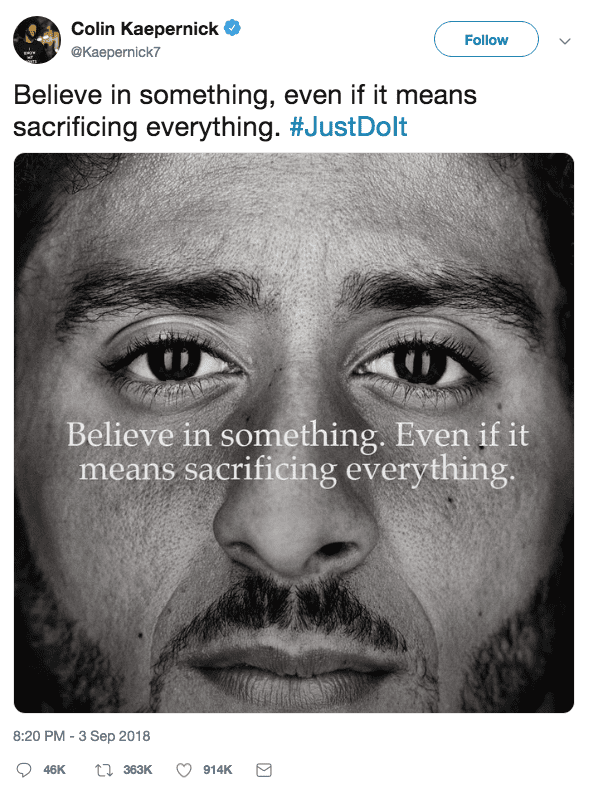 The controversy following the ad's release put Nike at the centre of an online maelstrom, with articles debating its relative merits—or lack thereof—popping up on sites as diverse as the BBC, Rolling Stone, The New Yorker, & Reuters, and Kaepernick's tweet of the ad racking up nearly a million likes and hundreds of thousands of retweets. If you subscribe to the 'no such thing as bad PR' mentality, then the days immediately following the release of the ad were a wild success for Nike, but it was a tense time for the brand as they waited to see if their risk would pay off. In reality, though, predictions were being made hourly that the ad would be a huge mistake for the brand, most notably by Trump himself: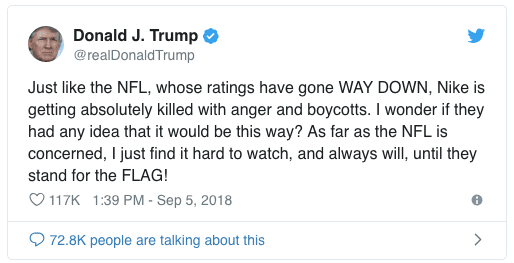 Within a month, though, the furore had mostly abated, and all signs were pointing to a bullish 4th quarter for Nike, with end of year fiscal results revealing stats even better than most had dared to predict, and the brand ranking in the top 3 Dow-traded stocks of the year. So has Nike changed the game for brands who want to wade into political discussions? I think we all know the answer to that one is absolutely not.
Let's fast forward to mid-January and shaving brand Gillette's release of the first highly-controversial ad of 2019. Although the brand has no plans to air the ad here in the UK, it still showed up on marketing industry radars, news sites and social media across the globe. Similar to the reaction to Nike's ad, there was, of course, a vocal minority who immediately called for a boycott of the brand, and at the time of this writing, two weeks after its release, think pieces remain divided: have we witnessed the first great marketing campaign of 2019, or the worst blunder since Pepsi's Kendall Jenner ad of 2017?
It's no wonder brands are scared to dip their toe in; it can take up to a full quarter to understand whether a controversial ad was a good idea or not, so for many it seems safer just to stick with what they know- especially when trialling the unknown at the Super Bowl comes with a price tag of more than $5Million for only 30 seconds of airtime. If a brand doesn't set records for revenue increases that way, at least they don't have to issue corporate apologies like Pepsi did.
Maybe this is the biggest reason, then, that Super Bowl LIII won't have as many political ads as in years past: brands who truly care about social causes are more likely at this point to boycott the Super Bowl as a whole rather than patronise an event that supports the NFL, an organisation increasingly seen as tainted by its reaction to Colin Kaepernick's peaceful protests. A-list celebrities like Rihanna, Jay-Z and Cardi B reportedly turned down opportunities to perform at the Super Bowl this year amid rumours that halftime performers were harder to find than ever before, with some actors like Amy Schumer refusing to even appear in commercials during the game. As tempers continues to flare regarding players who choose to kneel during the national anthem, brands are increasingly viewed to be taking a stand just by taking out ads during the game at all. If a brand's mere appearance at the Super Bowl is enough to be a political statement, how does a brand in 2019 stay out of the political arena? The answer right now appears to be in getting creative with your ad spend.
Skittles isn't taking out an ad this year but is still making a non-political splash by putting on a one-night-only Broadway musical starring Michael C Hall that takes place… you guessed it: during the Super Bowl. Proceeds will go to charity Broadway Cares, with Skittle matching the final donation amount. This serves a double purpose for Skittles, a company who has been known in the past for their outspoken views in favour of LGBT rights: it allows them to avoid supporting an organisation (the NFL) with beliefs that don't likely align with a good portion of their target audience, it probably saves them money, and it puts them centre stage for several hours during their musical event rather than for 30 seconds in a highly-competitive environment.
https://www.youtube.com/watch?v=U9U_dNo3w7k&feature=youtu.be
Lexus has also chosen not to appear this year, but they released a football-themed ad, in a timely nod to the topic we're all thinking about anyway.
Whether this unique way to avoid the political statement of appearing in traditional rigmarole of Super Bowl ads will pan out for brands remains to be seen, but it's clear that now more than ever brands are being forced into the political arena whether they want to be or not.
So what about those brands that aren't appearing in this year's big game? It's not all a loss: viewership has been down year over year since 2015, and 2018's viewers were the lowest in a decade. Meanwhile prices for ads continue to skyrocket, leaving some brands believing that, whether to take a stand to just to save a buck, their money may better be spent elsewhere.