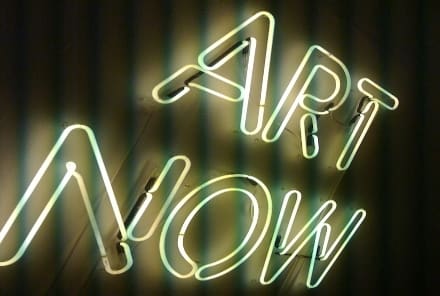 Elastic creative headed to Dundee for the DJCAD Degree Show 2012 to meet the shiny new faces of art & design and to take a look at the various exhibitions, creative thinking and innovative ideas that never fail to impress us.
One of the best colleges of art and design in the UK, DJCAD has been ranked no.1 for its research environment and course satisfaction and is also where Elastic's Lauren, Guy and Emily studied many moons ago!
As Elastic Creative are interested in all things art & design we jumped at the chance to visit the college for industry preview night to check out some of the great projects that are on show. Here's a look at some that really stood out.
Graphic Design
Stephen McKay
Stephen's work communicates the blast radius of the Hiroshima bombing of 1945 through typography, an accompaniment to his motion-based video of the events leading up to the bombing – a must see! http://stephenmckay.tumblr.com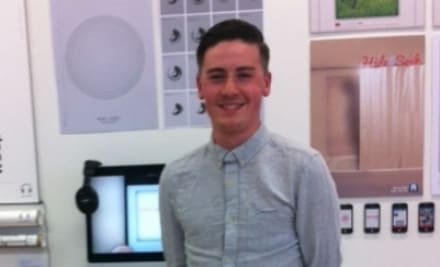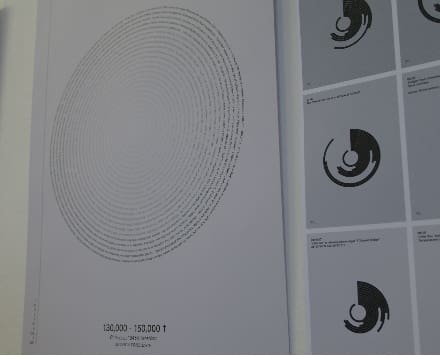 Stephen also exhibits his Hide and Seek app where players can create and join hide and seek events, upload pictures and videos of their hide and seek adventures and share on Facebook and Twitter.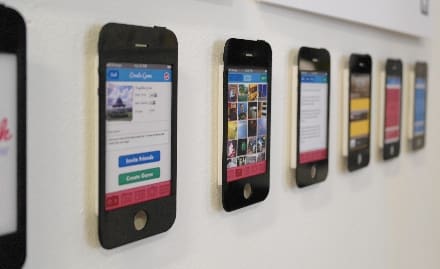 Gemma Day
Gemma presents the text of the book 'The Waitress' by Zack Zipes in an inspiring and imaginative way which aims to enhance the experience that the reader goes through at certain stages of the book; communicating the story through the use of typography. The story becomes more engaging as emphasis is placed on the quotations and parts of the story that Gemma feels are crucial to the plot.
Check out her blog http://gemmaday90.tumblr.com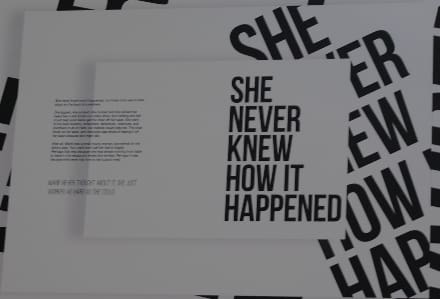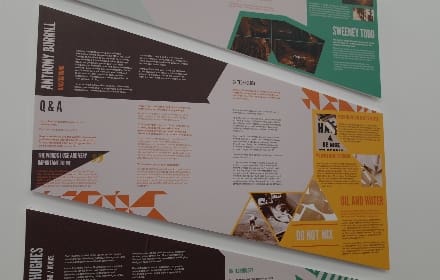 Ottavio Di Sott
We loved Ottavio's design process and thoughtful approach, which represents his interpretation of the book 'The Waitress' by Zack Zipes. Ottavio presents the story in a way that is truly unique and creative. His aim: to demonstrate alternative ways of interacting with the story. When the reader interacts with each of the elements of Ottavio's work, the story is revealed.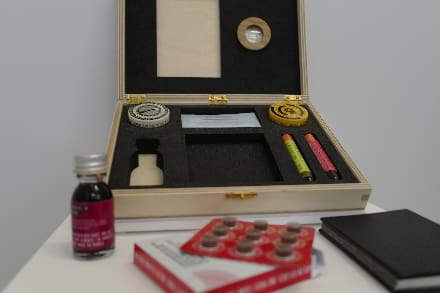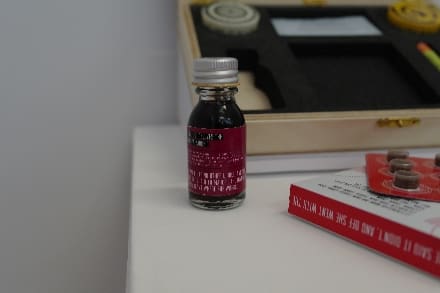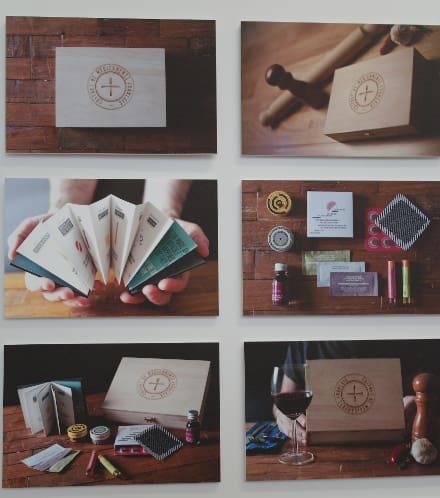 Fine Art
Lauren Peebles
The elastic team were also impressed by the work of Lauren Peebles. Lauren's inspiration is based on the patterns and colours that exist around us in the natural world that often go unnoticed. Images are taken of the vibrant colours and patterns found on rocks and lichen and are then printed onto a much softer silk medium. Lauren then works on the silk prints with inks, paints, stitching, charcoal and graphite to enhance the natural beauty of the colours and patterns. We like how Lauren captures interesting and unusual images and then presents them in such a tactile and visually appealing way.
Check out Lauren's blog where she describes each step of the process of creating her work. http://www.laurenpeebles.blogspot.co.uk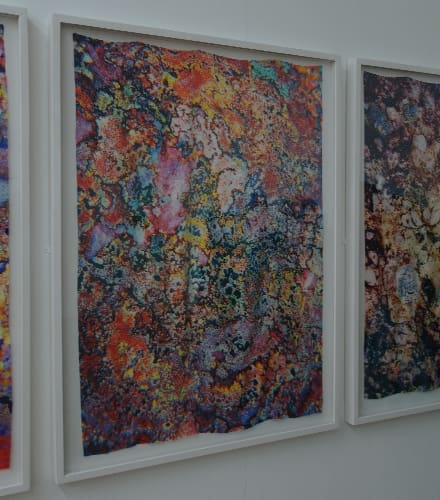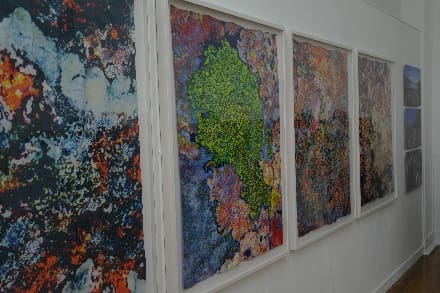 Jewellery & Metal Design
Sana Aziz
The first thing that strikes you about Sana's pieces are the elephants.  You think to yourself  'Hmm these look interesting, how cute'. Everyone loves elephants don't they, especially pink ones.
But then when you look closer you also see other figures – blue elephants and even ringmasters so you look closer still and then start to ask 'What's all this about then?
Sana's jewellery is not only well made using a combination of wood, paint and silver making them very wearable items; they also carry a deeper message addressing the issues that face many women in Pakistan today.
Without bashing the viewer over the head with a political or social message she's managed to create very original, wearable pieces whilst still raising a few questions or maybe a few eyebrows.
Can jewellery really be beautiful or fun and still carry an important message or even challenge stereo types? Well in Sana's case yes it can and it does.
I'm sure Sana's degree show will just be the beginning of good things to come for her and I'll be watching this space and her site to see what comes next.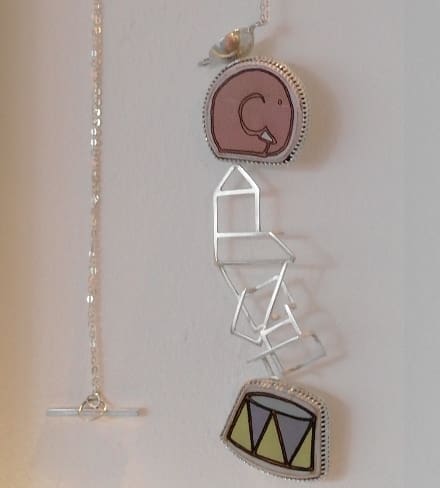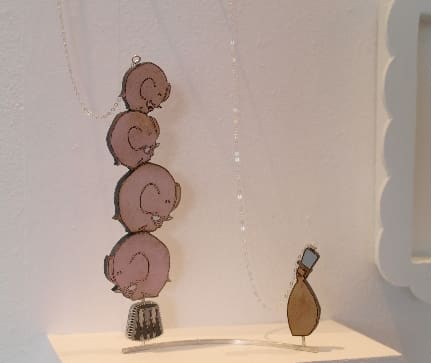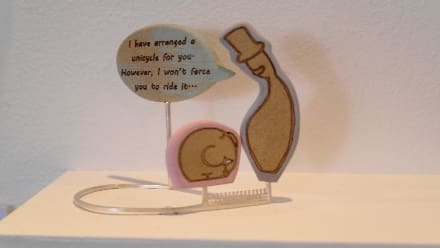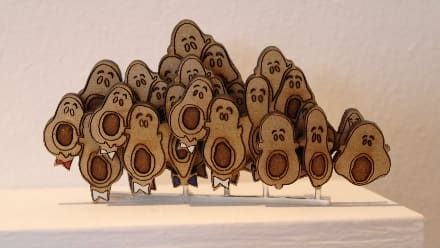 The DJCAD degree show runs from 19 – 27 May. On show is a wide variety of work by many more emerging artists and designers in the areas of:
Animation
Art, philosophy, contemporary practices
Digital interaction design
Fine art
Graphic design
Illustration
Interior environmental design
Jewellery & metal design
Product design
Textile design
Time based art & digital film
We would highly recommend a visit!
Elastic provides full brand design and strategy consulting so please get in touch.