Everyone loves a cool music video, right? Here at Elastic, we're always looking at things from a design perspective, so we're loving the recent crop of music videos with amazing motion graphics. To avoid disappointment or sudden, elated surprise, I need to point out that this blog will venture determinedly and without hesitation into the wonderful world of hip-hop music. If it isn't quite your pint of ale, focus on the motion graphics. If it is to your fancy, then feel free to listen along with us. Both parties are welcome here, as we all have a love of cool motion graphics and their experimental applications.
 Without further ado, here are some of our favourite recent cheeky examples
:

Wait, this isn't a rap video? Why did I waste your time building this up that as a Biggie Smalls appreciation post? We'll get there. Before that though, let's look at this absolute feast of motion graphics. So many techniques, each as crazy and as messy as the one preceding it, leave you salivating at a video seemingly made with pure impulse. It pumps, it hits hard and it gathers such pace that it almost needs a health hazard warning before watching it fullscreen. We love it, and it shows the potential for some proper out-there graphics whilst keeping an obvious identity. Combine it with your strongest mug of coffee and if that doesn't get your heart rate going in the morning, nothing ever will.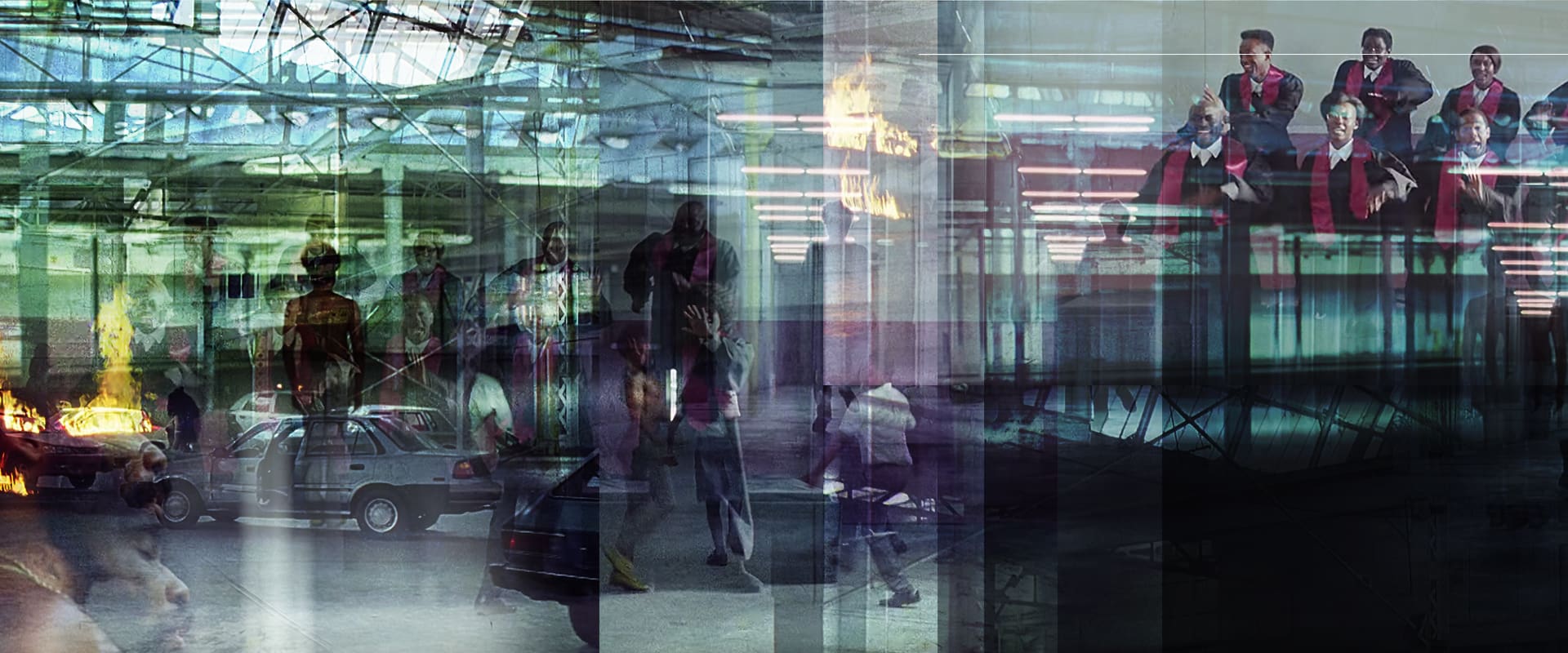 Childish Gambino threw this video out into the world in the same way a poker player flips a chip into the flop. The production is superb, self-appreciative and blatantly, unapologetically blunt. Throughout the video we're totally aware of the camera, we can almost hear the camera operator's trousers rustle around the warehouse. Set piece after set piece is presented in well-lit, well-composed shots, to the point that you need to re-watch it just to gather together every detail. A man jumping in the background is lost on a first viewing, the appearance of the gun at the start is a special effect not initially taken in. Politically, it's incredibly charged and remains quite brutal even after repeated viewings. An example of cinematography and videography working so well with choreography and (I desperately want to say the word geography) communicating a message to the masses.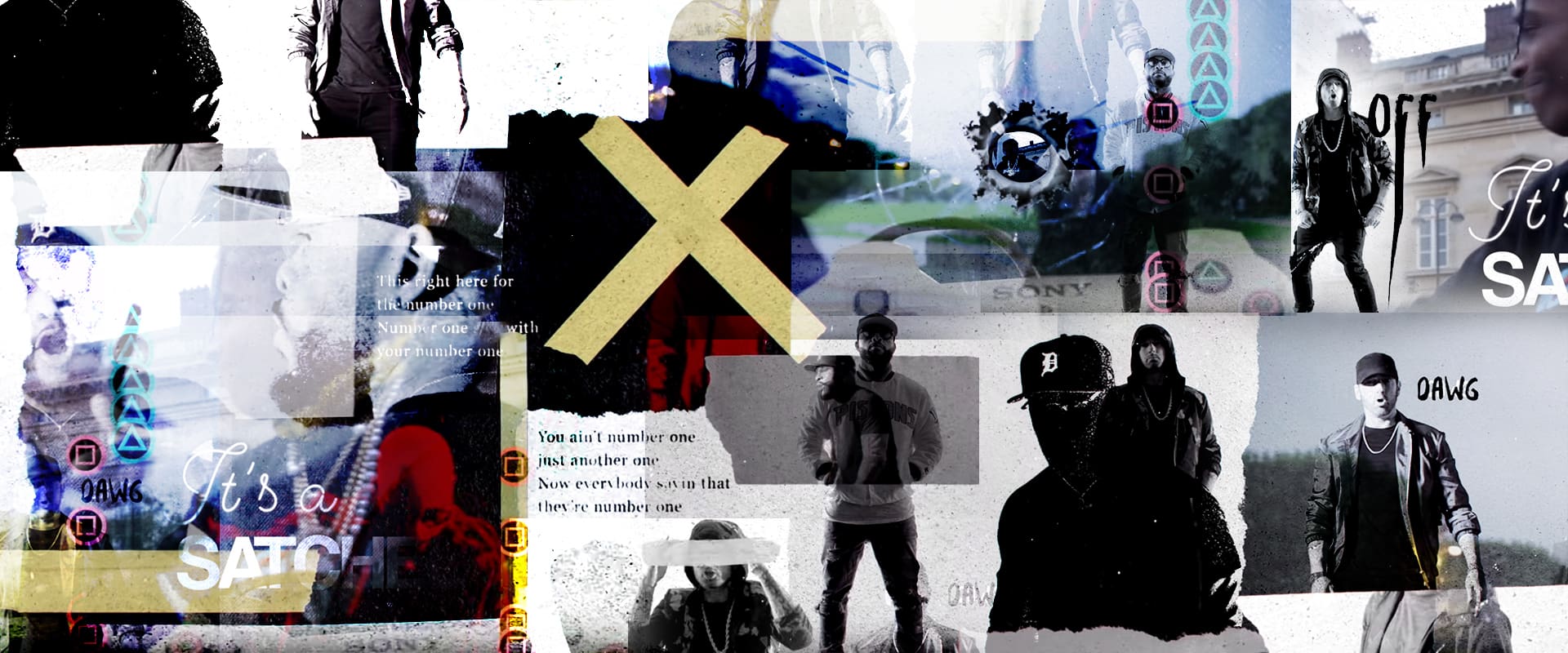 Royce da 5'9″: Caterpillar and A$AP Rocky & Tyler the Creator: Potato Salad

Stepping out of Gambino's warehouse of organised mayhem, I present to you two rap videos that use quick graphics and nice typography whilst managing to be totally opposite in style. Caterpillar takes itself seriously, with one artist static as the other raps in abundant animation, a wide frame with textured cuts and quick-fire type accompanies the duo. Colour grading wraps it all up in a bundle of blink-and-you-miss-it. Comparatively, the graphics in Potato Salad are just absolute fun, reflecting the culture of Tyler. Yet, it's a masterclass of choosing a style and running with it to the end. The whole graphical output is dodgy, whimsical even, but it works so well. From the clunky masking to the cut out controllers, the whole video could have been mashed together in such a short space of time, which is how a lot of motion graphics work is usually done!

Importance of music videos
There was a brief time where we thought music videos may begin to fade out, as streaming services picked up and everyone began to Jack Sparrow it instead. Music channels on TV began to change their outputs, or disappear all together. But the surge in online views, especially on Youtube, brought them back stronger and more approachable than ever. In the past few years it has become tradition to release a song first with the video, and then on everything else, which is fantastic for us motion cretins. Kendrick Lamar's Humble, with its beautiful frames and unique techniques, gives inspiration to directors and crew across the industry. The same can be said for Miike Snow's Genghis Khan, a class example of how to produce a music video using all the tricks in the videography book without going overboard; sticking fast to the idea. Alternatively, the world of 3D that has consumed the graphic design and brand world has also infected music video producers with the same bug. Magic by Mystery Skulls is a strange one, but the production quality is undeniably silky smooth, and I can imagine the render times were eye-watering. We don't have to go back far to see that animation has been represented in the music industry in cool and exciting ways, such as Justice's Civilisation or even Linkin Park's Pts.Of.Athrty, the latter of which hasn't aged too well on reflection; still cool as heck, though.

The Future
As with all areas of motion design, the future is constantly changing with ever-advancing technology. VR music videos are already seeping into the mainstream, along with 360 productions. But will they have sustained value throughout the years? Some of the strongest videos have been glued together by an idea or their production quality, regardless of whether they're animated, live footage or pure graphics. With online video plowing ahead with higher and higher view rates like an unstoppable freight train and a variety of music streaming services fighting to get music consumed more and more, the combination of visual and audio can only get stronger and have more punch. Even now with the higher res versions of videos coming out we look back upon older productions as if they were simple clay creations.
By now, you're either fuming at the fact that I've missed out your favourite music video (send it to me! jacob@elasticcreative.co.uk – I love seeing new videos!) or you're thinking, wow, this guy really concentrates on one music genre. Either way, the methods in which motion graphics are used in the music industry is a rabbit hole you can get totally Alice'd in and never find your way back out. But thankfully, you'll be listening to some great music whilst viewing well-assembled, often explorative and boundary-breaking graphics.
For more graphics like this, take a look at the video section on our website. Music is a massive feature in every motion piece we do, although we're yet to work with Eminem.