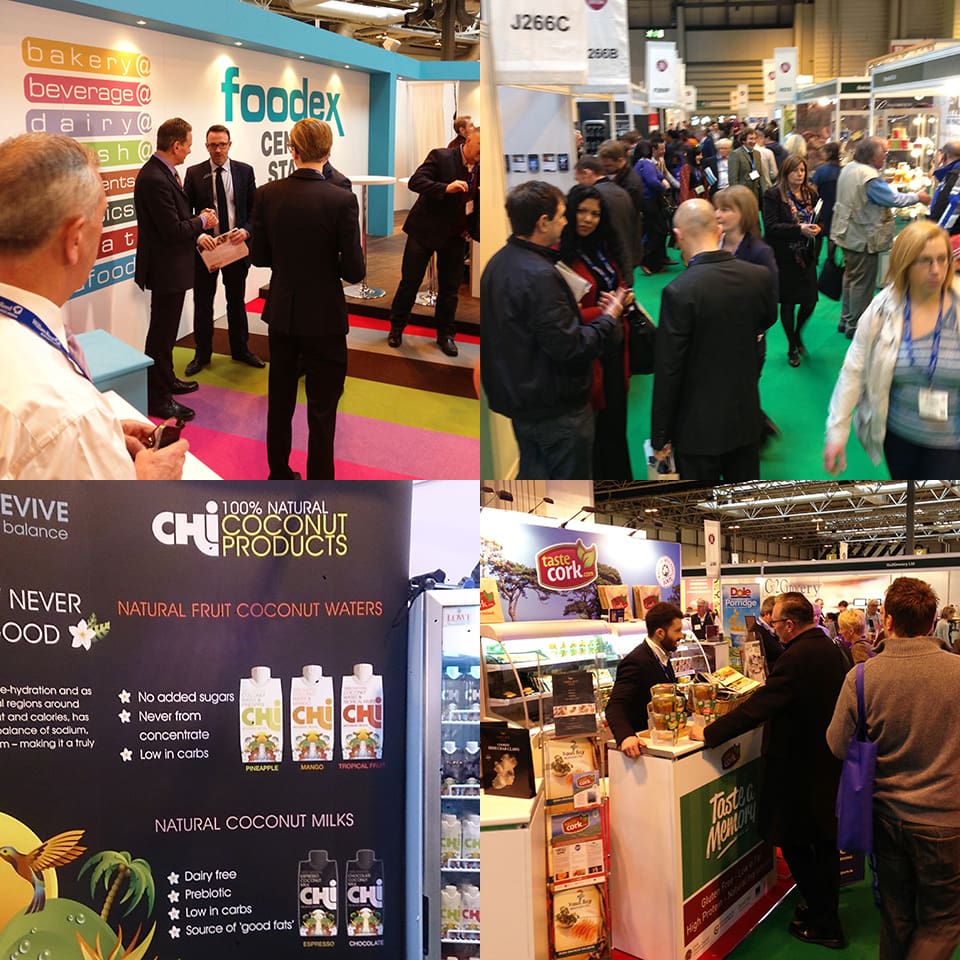 Kurt Vonnegut once said "You can't just eat good food. You've got to talk about it too. And you've got to talk about it to somebody who understands that kind of food".
I can only imagine his summation after Food & Drink Expo 2014, once again partnering the Farm & Deli Show and Foodex 2014. The innovation behind some of the products always impresses the many attendees and it is a great source of ideas – and a place where some businesses sign that golden order with a major stockist. Below are some findings and trends that stood out:
Coconut water – a category that continues to grow and stake its claim not only amongst health drinks but general convenience drinks in-store. Some great innovation was evident but my favourites were Chi and Gococo. A key usp is that coconut water is healthier than fruit juice with half the calories and much higher potassium content. While not a water substitute it is also lauded for its hydrating qualities and the brands mentioned are doing a great job of telling a story that positions their product strongly. Expect sales of this 'ambrosia' to go up exponentially.
Tea has been a feature of the last few shows and shows no signs of abating in popularity. It is never easy to go from being a tea brand that supplies businesses to one that can attract and entice consumers but it was great to witness (and taste!) amazing tea which really stood out. Suki Tea is already upping its consumer appeal with a strong presence and increasing listings in-store. The wonderfully aesthetic and enjoyable Flora Tea has already picked up a glut of taste and product awards. With an aromatic flower forming a 'tea heart' it literally blossoms when boiling water is poured in, creating a work of art which also tastes great. My favourite this show though was eteaket. Unsurprisingly, Erica had it voted 'Best Tea in the UK'; with a range of teas that include black, oolong, white, green, fruit, flowering and tea cocktails! If you are fortunate enough to visit Edinburgh, pop into their shop; their range is increasingly stocked in cafes, hotels, restaurants, even abroad.
E-cigarettes have held a strong show presence for some time now and it continues to be represented with an increasing number of competitive brands in a growing sector. The recent considerations by the Welsh Assembly may add an interesting take to how these brands approach their marketing plans for future – www.bbc.co.uk/news/uk-wales-26837682
Other brands which continue to be successful, grow their trade and impress visually and gastronomically are Thistly Cross Cider, Square Pie company and Ramsay of Carluke. Thanks to their sustainably delicious food/drink samples!
So the next time you are out shopping remember – coconut water and tea.