Back in June, we were approached by Keppie Design – a leading Glasgow-based Architecture firm – to create and manage a social media campaign to promote their radical rebrand.
Having already delivered the well-received rebrand, they entrusted us with the task of helping them build on their already respectable brand awareness. 
And the results speak for themselves. 
Over the course of the 3-month campaign, we saw a 12% increase in social media followers and a 124% increase in website traffic, significantly boosting their visibility within both their own industry and also with prospective clients.
Here's how we did it.
The Brief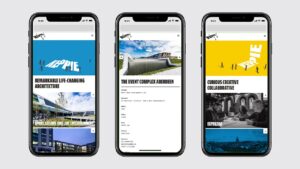 Keppie was already a well-established and respected brand within their field. However, they felt their current brand identity wasn't aligned with the modern, progressive culture of the business. 
The first step was to craft a brand identity that was closely aligned to and more representative of the shift in company culture they'd instilled over the years.
They then wanted to promote this fresh brand identity to both their current audience and to a potential new audience to help them gain even more incredible projects to add to their impressive portfolio.
The Proposal
Since the new brand was so visually striking, we knew immediately that the campaign should reflect this with engaging visuals. As such, we chose to advertise across LinkedIn, Facebook and Instagram – 3 advertising platforms with a focus on striking visuals.
As the goal of the campaign was brand awareness, we decided the best strategy forward was to promote Keppie as a thought-leader in their field. We worked closely with the knowledgeable senior leadership team to craft 3 topical thought-leadership content pieces that we knew would be a hit with their audience.
If you're interested in Architecture at all, you can check them out using the links below: 
We then got to work writing compelling ad copy and creating scroll-stopping animated videos that truly captured the essence of the new rebrand.
Strategically, we opted to run the campaign in 3 phrases – promoting a new content piece every 4 weeks to prevent ad fatigue. 
Throughout the campaign, we would then use intricate audience targeting tools on both Facebook and LinkedIn to steadily increase the effectiveness of the ads as the campaign rolled out.
The Results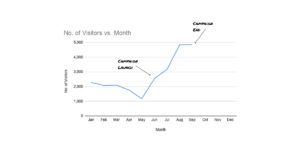 As mentioned in the intro, the results of the campaign speak for themselves. And, dare we say it, even slightly out-performed our own lofty predictions. 
Before running the campaign, Keppie enjoyed a solid 2k+ visitors to their website each month. However, by the end of the campaign, we were achieving close to 5k, a 124% increase on their previous monthly average.
Not only this, but we also helped them significantly increase their organic audience on social media, with a 12% increase in followers gained over the 3 month period. They'll now be able to reach and engage with a significant number of additional followers to promote their services to via their social channels. 
All-in-all, the social campaigns delivered a total of 356k+ impressions and 12k clicks, with a 2.2% CTR – considerably higher than the industry average of 0.3%.
It was a blast working with Keppie on the project – and we look forward to working on further successful campaigns with them in the future.