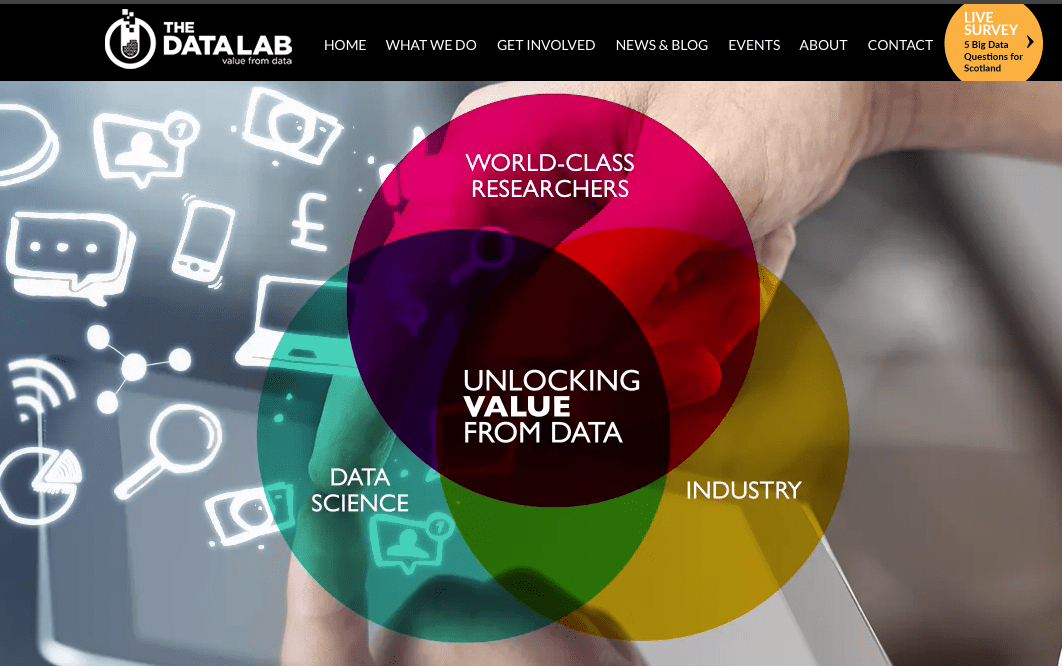 Elastic were appointed by the Data Lab to build and produce their web presence.
Big data has become a buzzword over the last few years but what is it and what kind of value can it create?
Big data, in a nutshell, is about gaining insight into patterns and trends within a large volume of statistics, created by people using any kind of service. Ultimately the analytics of large volumes of user or customer information can lead to improved services and also to increased profits for providers.
For example, take a city like Edinburgh. Imagine a free, official, mobile app existed which visitors used to navigate the city and find out about attractions etc. The data contained in this could be aggregated across a period of time creating numerous location based insights. Not only could you find which attractions users visited and in which order, the city could use the information to plan transport systems.
Other uses of big data could involve analysing large sets of NHS health records and profiles to provide insights into patterns, ultimately improving public health.
It could also involve recording and analysing large sets of user clickstream events in a marketing campaign and comparing these against previous activity to inform future strategy.
Data storage providers, including NetApp also use an Internet of Things (IoT) approach to send data from its many client located devices back for analysis on health and performance.
Big data has also been used to describe large volumes of information which are hard to analyse and store.
The Data Lab is a new innovation centre, headquartered in Edinburgh and created by a £11.3 million grant from the Scottish Funding Council. It's purpose is to 'revolutionise Scottish industry in how it develops and applies cutting-edge analytics and data science.
Through 'collaborative innovation', 'skills and training' and 'community building' the Data Lab is projected to generate 345 new jobs and unlock £155 million of value within the Scottish Economy.
The Data Lab believes that across the UK economy there is an estimated £216 billion of value ready to be generated through the application of big data techniques. This would be throughout the the energy & utilities, financial services, healthcare, digital technology and public service sectors. Links.
The Data Lab invites businesses to contact it at one of its three hubs, in Edinburgh, Aberdeen or Glasgow for advice on how organisations can unlock value on large data sets they might have.
The Data Lab website was designed and built by Elastic Creative on the Drupal open source content management system. We will be undertaking digital marketing campaigns for the organisation. Watch this space!