Gamification. You'd think it described the aftermath of being blasted with a ray gun on Star Trek.
But, like many terms in digital marketing, it's not nearly as scary, complex (or dangerous!) as it sounds.
Here's a simple definition from a recent report published by eConsultancy:
Gamification is not necessarily about games, but the application of game techniques that allow a brand to connect with consumers in a meaningful way, offering challenges, rewards and a sense of competition or achievement.
If you've ever gotten sucked into the annual McDonald's Monopoly campaign, you'll have a good understanding of how powerful gamification marketing can be when it's executed well.
And, there's also some persuasive statistics to back up its effectiveness.
Ford, for example, boosted sales by $8 million and increased their number of Facebook likes by 600% with one gamification campaign alone.
How it works
Gamification is a way of making your marketing content more fun for the consumer.
And, in a world that's fast becoming polluted by an overabundance of digital advertising messages, that makes it a great way for businesses to attract consumer attention.
According to a report from ReflectDigital, gamification taps into our primal human need for play. But, even deeper than that, it has the power to trigger an emotional response within the target audience. And, as the report goes on to say: "the more emotional reasons a brand gives a consumer to choose it, the more likely they are to do so."
Gamification also plays to our emotional need for competition and status. Most of us like to win. And then to constantly remind those around us of "that time we won".
Let's face it, both winning and telling people we're winners feels good. So, naturally, consumers tend to reward brands that help them elicit those feelings.

The advantages of gamification marketing
Introducing gamification elements into your content marketing campaigns offers greater benefits than just building an emotional connection with your audience. It also offers tangible business benefits.
In a crowded digital marketplace, trying to get your message to cut above the noise is becoming increasingly difficult.
But, by gamifying marketing content, you'll make it more interesting and engaging. Which is going to help your unique message be heard over the competition. And, therefore, build brand awareness and boost sales and leads.
Gamification techniques have also been used by supermarket giants for years – think Tesco's Clubcard, or Sainsbury's Nectar Card – to encourage brand loyalty. More recently, a similar gamification strategy has been implemented to incredible success by Starbucks. Their myStarbucks app is used by 48% of their customers.
Adding game mechanisms into your marketing strategy also allows you to gain a deeper understanding of your audience. In a post-GDPR world, where consumer data is less accessible, analysing the way in which consumers interact with gamified marketing content could provide valuable behavioral insights. And that's only going to lead to more successful marketing efforts in the future.
Examples of gamification in B2B sector
One of the biggest mistakes B2B marketers make is forgetting that they're selling to humans. As such, they tend to avoid traditional emotion-based marketing methods and appeal to rationality.
But, the truth is, emotion-based marketing techniques like gamification can also be extremely effective in the B2B space.
B2B marketer Neil Patel, for instance, uses a "spin-to-win" game as a way of collecting email addresses to grow his database.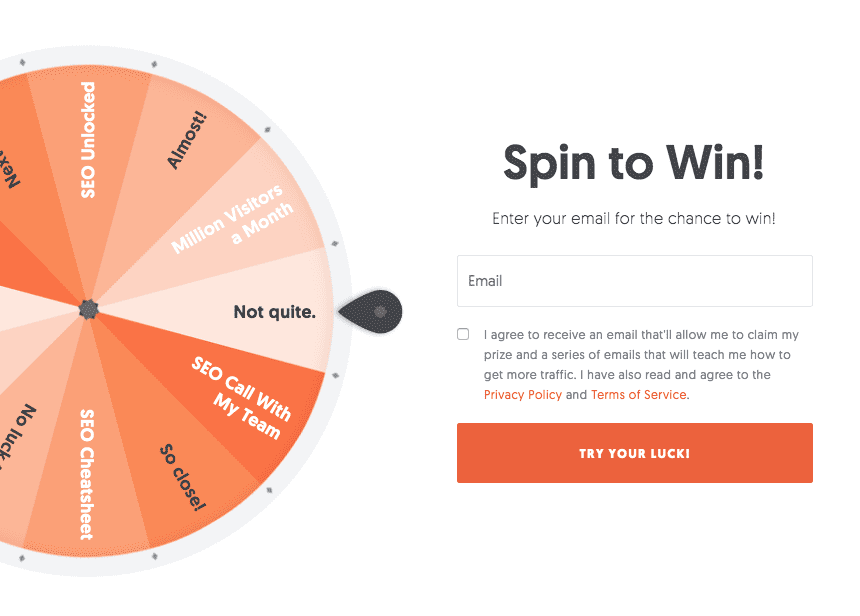 Marketing software platform providers Hubspot, on the other hand, have created an entire free online academy that allows users to win certificates for completing courses.
And, this benefits the brand in two ways:
Users will post Hubspot certificates on their websites and social media channels, which raises brand awareness
Courses are offered in exchange for valuable customer data
Finally, IBM is no stranger to gamification marketing. And their latest offering, Mainframe Mike, is a full-blown online video-game designed to "encourage young developers to learn more about mainframes."
Although the game isn't a direct sales tool, it's likely to have 2 key long-term benefits for the brand:
It creates a newsworthy story that will help them stay top-of-mind among their target audience.
It will allow them to nurture and attract long-term talent to help push the business further.
Gamification ideas for businesses on a budget
Video-games and augmented reality (AR) are thought to have the greatest ROI in gamification marketing. Unfortunately, access to the software necessary to create this type of marketing material exceeds the budget for most brands.
But that doesn't mean businesses with smaller budgets can't use gamification to their advantage. Here are 3 simple and affordable ways to use gamification in your own marketing:
Polls, Sliders & Questions
If your brand is using Instagram to market your product or service, then you should consider using the story stickers – like polls, sliders and questions – to encourage consumer engagement.
Competitions
Competitions are one of the best ways to create a buzz around your brand and raise awareness. Just make sure to offer a decent prize to the winner. The success of gamification lies in the level of value you offer consumers.
Reward Loyalty
You could also try creating a loyalty card system or rewarding consumers who share your business page on social media. As with competitions, make sure rewards are high-value for best results.
Conclusion
Gamification marketing will be a promising avenue to explore for brands looking to increase reach, engagement and sales. But, with that said, it's not a golden-ticket to success.
In order to be successful, gamified content will still need to be supported by effective digital marketing strategies and bold creative. Without these elements, your marketing material won't be seen, regardless of how innovative, interesting or engaging it might be.
It's also important to keep brand identity and target audience in mind. Promoting gamified content that doesn't align with your overall brand image would confuse customers and likely harm your reputation. Similarly, you don't want to shell out on video-game style content, if your audience prefers quizzes and puzzles.
Finally, as with all things in marketing, it pays to analyse and experiment. So don't be afraid to try new things, even if none of your competitors are doing it. As often as not, when it comes to business and marketing, fortune favours the bold.