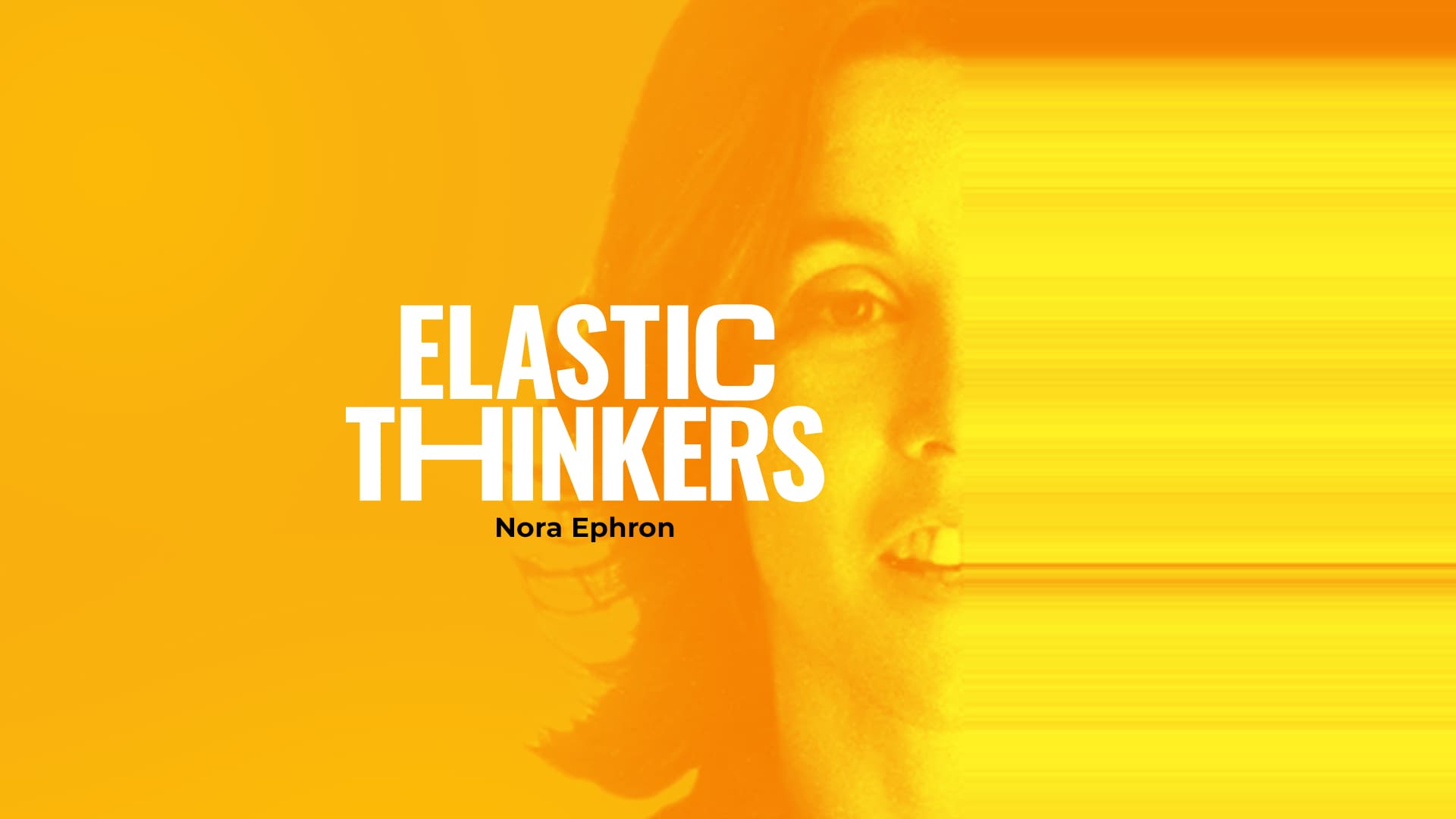 As Elastic's resident Content Marketer and writer in my spare time, this is no other writer whose career I admire more than Nora Ephron's. An American journalist, writer, and filmmaker Nora Ephron penned some of the most iconic pieces during her fifty-year career. From her collections of essays, where she touches on everything from motherhood, careers, marriage, divorce, her hatred of handbags, and the reasons she feels bad about her neck. To her one and only fictional novel Heartburn to three of – in my opinion- the greatest romantic comedies of all time, "When Harry Met Sally", "You've Got Mail" and "Sleepless in Seattle". 
You can't help but imagine crisp autumnal mornings and sitting down with a typewriter when you talk about Nora Ephron. Born in 1941 in Manhattan she once said in her commencement speech in 1996 at Wellesley College that women of her generation weren't expected to do much of anything yet she went on to have several careers. Working as a journalist, blogger, essayist, novelist, playwright, Oscar-Nominated Screenwriter, and Movie Director, her career is one to be inspired by.
Nora Ephron's career started in 1961 when after working for the Wellesley School newspaper she went on to become a Summer intern for the Kennedy White House. After moving to New York City in 1962 she became a mail girl at Newsweek before contributing to the parody papers of the New York Post during the 1962 newspaper strikes. Her work in the parody papers caught the attention of the Post's publisher Dorothy Schiff, earning her a tryout at the Post. 
After 5 years writing at the Post where she learned to write short and write around a subject, she turned to magazine journalism at Esquire and New York Magazine. She quickly made a name for herself writing frank & funny personal essays and profiles. 
Her next career shift happened by accident when her first foray into the movie industry was re-writing William Goldman's script of "All the Presidents Men" along with her ex-husband Mr. Bernstein. While ultimately their script wasn't used it did catch the attention of the movers and shakers of Hollywood. 
It wasn't until a few years later her first screenplay written with her friend Alice Arlen titled "Silkwood" was turned into a 1983 movie starring Meryl Streep and Kurt Russell. She followed "Silkwood" with a screenplay adaptation of her own novel "Heartburn." Turning her painful breakup with her second husband Watergate Journalist Carl Berstein into not only a best-selling novel but also into a movie starring Jack Nicholson and Meryl Streep. 
However, it was her script for "When Harry Met Sally" starring Meg Ryan and Billy Crystal that solidified her gift for romantic comedies and creating modern films that have that old-fashioned movie charm. This led to her next career move, directing. She once wrote, "One of the best things about directing movies, as opposed to merely writing them is that there's no confusion about who's to blame; you are". 
Her first directorial debut was "This is My Life" in 1992 which flopped however she redeemed herself in 1993 with "Sleepless in Seattle" a film she also shared screenwriting credits for. Bringing together the romantic comedy duo of the 90s Meg Ryan and Tom Hanks before they went on to star as business rivals who ultimately fall in love in the 1998 movie "You've Got Mail."  The movie she wrote along with her sister Delia Ephron, was the remake of Ernst Lubitsch's film "The Shop Around the Corner." 
Wearing both her director's hat and screenwriter's hat Nora Ephron went on to make "Lucky Numbers" (2000), "Bewitched" (2005), and her last movie which brought her back together with longtime friend Meryl Streep in "Julia & Julia) in 2009. 
Her career in Hollywood earned her three Oscar nominations for best screenplay, her essay collections "I Feel Bad About My Neck; and Other Reflections on Being a Woman" (2006) and "I Remember Nothing" (2010) were both best sellers. Along with her sister, she wrote a play "Love, Loss and What I Wore" and alone she penned "Imaginary Friends" a play produced in 2002. She also became a blogger in the early days of blogging at the Huffington Post. 
All of this in just one career is what makes Nora Ephron so inspiring. When she herself said she came from a generation of women who weren't expected to do much of anything she beat the odds and that makes her an Elastic Thinker in my eyes. Managing to do all of these roles all stemming from the element of storytelling, if that is the secret to success I'll have what she's having.
Looking for more Elastic Thinker inspiration? Check out our profiles on Ruth Bader Ginsburg, George Lucas, Enzo Ferrari, and Philip K. Dick.