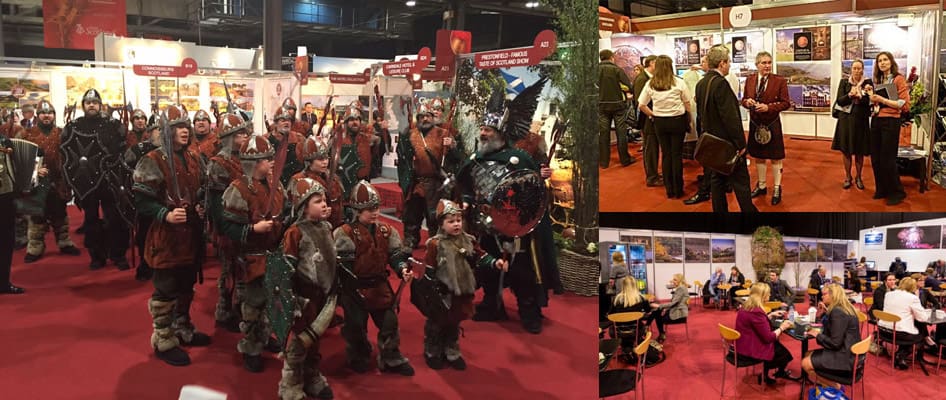 With 2015 as the year of Food & Drink, the VisitScotland Expo took place at the AECC. It would not be entirely surprising to find traffic was a little lighter in terms of visitor numbers, however the attendees were perhaps more serious in their intent as buyers and interested parties.
Last year, Scotland hosted several events which helped increase visitor numbers and prestige – the Commonwealth Games (fêted as the best games ever), the Ryder Cup (third most watched sporting event on the globe) and a political awareness of Scotland's referendum vote in September.
Contrast to 2015 and it could be argued one main event being hosted is the British Open in July, at St. Andrews. Galvanising this, the British Golf Museum are opening again in June with major refurbishment set to be unveiled and just a short drive away, Dundee joins the ranks of Bilbao, Curitiba, Helsinki and Turin as a Unesco City of Design. With attractions such as Dundee Science Centre, Discovery Point, an energised and growing University and a dynamic Rep theatre, this is one city which aims to increase its standing even before the V&A opens in 2018.
From the brands I spoke to, many are addressing their positioning, particularly to ensure their website is optimised for mobile – as google announced that from 21st April, rankings would drop for sites which were not mobile responsive. Having this tie into your video content, brand strategy, messaging and growth plan will allow the brands that do to capitalise not just on market share but continue growing existing business. If these are some of the thoughts currently on your to do list though, talk to elastic creative.
Last year I commented that Perthshire was unrepresented and it was good to note this was addressed for 2015, with a varied showing from not just key companies but a good exposure to the county itself and all it can offer. Indeed, with Fife winning best outdoor destination for 8 years in a row and Dundee being a world city of design, these counties should benefit from 2016 being Scotland's year of Innovation, Architecture and Design.
Overall, it was a good show in which the delegates worked hard to keep a steady stream of traffic coming to their stand. I hope the numbers start coming through once the many follow ups take place.